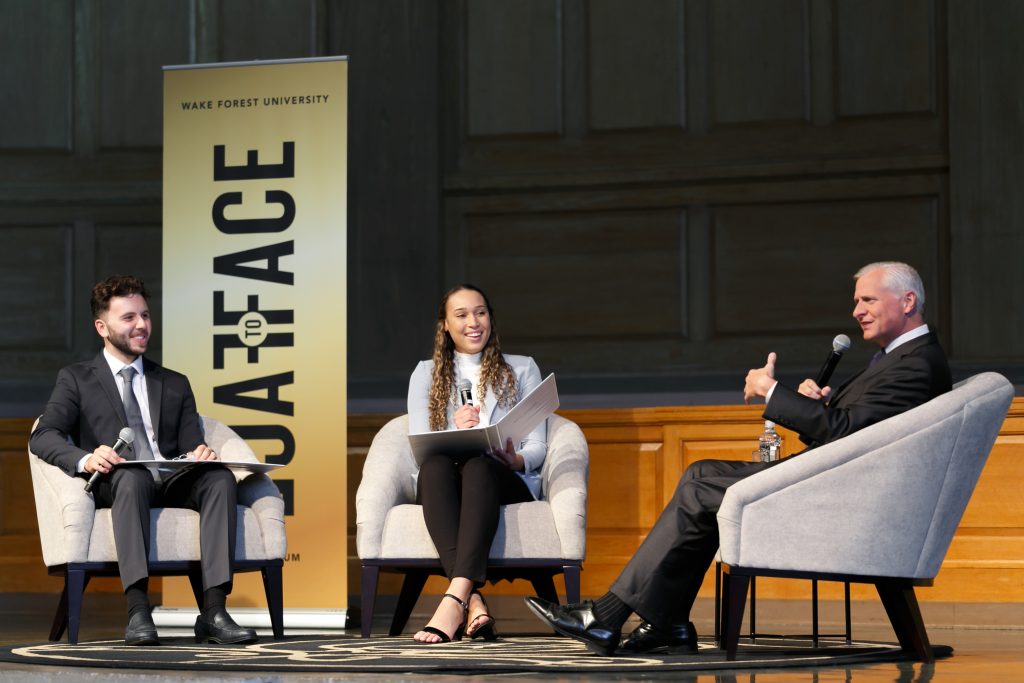 One Day, Two Events
Students from Winston-Salem area colleges and universities (Wake Forest, UNCSA, Winston-Salem State, Forsyth Tech, and Salem College) can attend BOTH the Student Only event and the Keynote Address for FREE with their student ID.
---
Student Only Event
Students are invited to join Thomas Friedman, in conversation with student moderators from Wake Forest University, for a Student Only event prior to the Keynote Address on November 15, 2022.
Who: All Winston-Salem area students
Where: WFU, Wait Chapel
When: November 15, 2022 at 5pm

Student Only Event Tickets: This event is not formally ticketed. Attendees will show their student ID for general admission entry.

**This event is also open to Winston-Salem Forsyth County public and private school students, for additional information please email facetoface@nullwfu.edu**
---
Keynote Address
Students are eligible to receive one complimentary ticket for the Face to Face Keynote Address event with Thomas Friedman on November 15, 2022 at 7:30pm at WFU, Wait Chapel.
Who: All Winston-Salem area students
Where: WFU, Wait Chapel
When: November 15, 2022 at 7:30pm
Keynote Address Tickets: To claim a complimentary student ticket, please visit the Wake Forest Ticket Office on November 15 between 9am and 4pm and show your Student ID card. The Wake Forest Ticket Office is located at Bridger Field House at Truist Field, 499 Deacon Boulevard Winston Salem NC 27105. You can also request a ticket at the Box Office at Wait Chapel beginning at 6pm on the day of the event.
All complimentary tickets are available on a first come first served basis, while supplies last.
---
Public Health Guidelines
For information regarding steps the University is taking to minimize the risk of COVID-19 transmission on campus, we strongly encourage you to review the University's COVID-19 Notice.